WORKING, PRINCIPLE & VARIOUS APPLICATIONS OF BATTERY
WHATIS A BATTERY ?
In a source of energy, obtained by the conversation of chemical energy from the chemical reaction into electrical energy.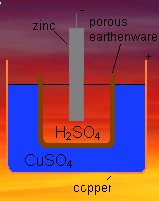 Thus BATTERIES represent a silent form of energy-producing chemical devices, which generate electricity on demand.
TYPES OF BATTERIES ?
Primary Battery (for single use only)
Secondary Battery (

for repeated use

)
PRIMARY BATTERY
A primary battery is one of the simple and convenient sources of power for several portable electronic and electrical devices like lights, cameras, watches, toys, radios etc.
Primary Batteries are inexpensive, lightweight, small and very convenient to use with relatively no or less maintenance. the majority of the primary Batteries that are used in domestic applications are single cell type and usually come in cylindrical configuration(although, it is very easy to produce them in different shapes and sizes).
COMMON PRIMARY BATTERY
TYPES
A Most significant development in battery technology took place during the 1970-1990 period.it is during this, time the famous Zinc/ alkaline manganese dioxide Batteries were developed and slowly replaced the older Zinc- carbon types as the main primary battery.
1295
0
0
cookie-check
ALL ABOUT BATTERY AND CELLS